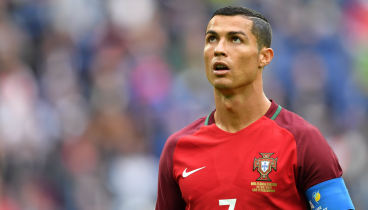 Chile topped Portugal in penalty kicks to advance to the Confederations Cup final.
Portugal just couldn't beat Claudio Bravo, and as a result, the European champions couldn't beat Chile.
After 120 minutes of scoreless play on Wednesday in the Confederations Cup semifinals, Bravo saved all three penalty kicks as Chile edged Portugal 3-0 penalty kick shootouts. Chile will play the winner of Germany vs. Mexico in the final on Sunday.
Two hours of play passed with neither finding the breakthrough, with Portugal getting the earliest chances but the South Americans threatening more. Chile actually hit the frame of the goal twice in the final minutes, as penalty kicks would decide it.
In the shootout, Chile made all three of its attempts, while Portugal missed all three. Ricardo Quaresma, Joao Moutinho and Nani had their low efforts stopped by the Manchester City backup.
It was a heroic performance from the former Barcelona man, who hasn't had a lot of good moments on the pitch over the last year. But his brilliant shot-saving on Wednesday sees his country through to Sunday's final.
As for Portugal, the team lacked conviction in the final third, and Cristiano Ronaldo didn't even take a penalty kick, as he was listed fourth or fifth on the sheet. Had Ronaldo taken a penalty and converted, it would have given Portugal at least a little more life, but instead, it must now settle for the third-place match.
Disclaimer: Comments expressed here do not reflect the opinions of EGFPlatform or any employee thereof.