US inflation rises less than expected
US inflation rose to 1.7% in July from 1.6% in June. Economists had forecast a bigger rise, to 1.8%.
Tata Steel signs new pension deal for workers
Tata Steel has agreed a new pension scheme for tens of thousands of workers, ending doubts about future payments.
The trade unions Community, Unite and GMB said in a statement:
We welcome the announcement which includes a commitment that Tata will stand behind a new scheme with reduced annual increases.
For over a year our members have feared for their security in retirement, and this announcement helps to bring that uncertainty to an end.
Wilko warns 4,000 UK jobs at risk
Wilko, the high street homewares and household goods chains, has warned almost 4,000 workers they could lose their jobs.
The retailer, which reported an 80% drop in full-year profits last month, said it has placed 3,900 staff working as stock supervisors, till supervisors and assistant managers, into consultation, which could lead to redundancy.
The company also said organisational changes could lead to the creation of about 1,000 new senior supervisor roles.
History tells us that we are probably not seeing the start of a sustained fall in US equities according to economists at Capital Economics:
The recent escalation of tensions between the US and North Korea has weighed on the S&P 500. But provided that war is avoided, we doubt that this marks the start of a sustained downturn in the index.

This was the case for US equities during the 1962 Cuban missile crisis, when the world arguably came closest to conflict between two nuclear-armed powers. Although the S&P 500 fell after US President Kennedy announced the discovery of missiles on Cuba, it had recovered its losses before Soviet General Secretary Khrushchev announced six days later that the missiles would be removed.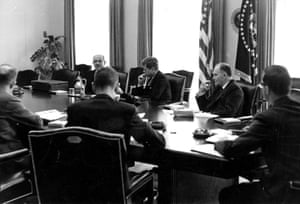 There have been other instances since WW2 when the US has potentially been on the brink of a war that did not break out. Admittedly, these did not pose such a direct threat to the US. But they also typically had little lasting effect on the S&P 500.

Our assumption is that there will not be a war between the US and North Korea. We are therefore sticking to our forecast for the S&P 500 to end this year and next only a touch below its current level.
Share this article
Disclaimer: Comments expressed here do not reflect the opinions of EGFPlatform or any employee thereof.